Essential vehicle equipment.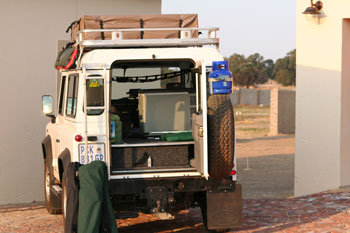 Fuel
A build-in, long-range tank is essential for the serious overlander.  For the occasional traveller steel jerry cans will do. 
Take enough fuel for the longest distant, but try not to carry extra fuel unnecessary.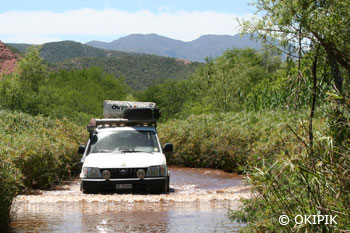 Water
Water in Africa is not always drinkable; make sure that you don't run out of water.  Having a build-in water tank with a tap is very useful, but a 25 litre plastic can is quite acceptable.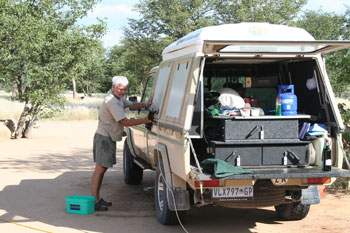 Tyres
Do not attempt an over landing trip and try to get the last few kilo's out of your tyres.  Tyres is not always available in Africa, and believe me, it also comes at a price. The best all-round tyres for load, speed and reliability are new, (no retreads).
Find the highest ply rating you can, especially for the side walls.  Rather chose a high profile than a wide, low profile tyre, as the best footprint for sand is long rather that wide. 
A good investment is a proper tyre repairing kit.  That includes plugs, gaiters and tubes for when you get punchers.   I will elaborate on this issue later on.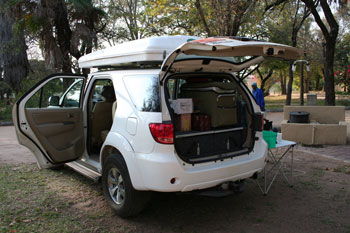 Battery
For overlanders an auxiliary battery is essential.  This battery should charge from the main battery, and should be disconnected when your vehicle is switched off.   This will prevent running down your main battery at night.  There are many DIY kids to install, but I would like to refer you to a link that has a very simple installation method for the secondary battery.