Vehicle
There are many perceptions when we discuss the mean machines.  I would like not to do that, but rather to give an over view regarding an appropriate vehicle.  Whatever I say, may not convince you to think the way I do, feel free to drive the way that will enhance your overlanding.
The most important attribute of a vehicle for Africa is not only the strength or how tough it is, but rather how reliable it is.  Reliability does not mean a new sophisticated expensive 4x4, no, you must decide how many spare parts you want to take with you.  Ideally you need a strong reliable simple vehicle with good fuel economy, high ground clearance and enough space to carry your load.
Yes, you can travel between Cape and Cairo with a reliable 4x2 pickup with a good ground clearance.  What is my point?  "You do not need a ten ton roller to squash an orange".  More than 90% of over landing is on a road service.   The option to go 4x4 will give you more peace mind and of course you can go to the more remote places.  This does not mean that your 4x4 cannot get stuck. The perfect vehicle for over landing is an open question.  Personal needs and preferences play a large roll and you may already have, what you consider, the ideal vehicle.
How big?
The number of people travelling with you will determine the size of your vehicle.  Two people, travelling light, would be comfortable in a single cab pickup with a canopy.  A five door station wagon will be more luxurious.  Be careful not to have more passengers than your vehicle is designed for, it can be very uncomfortable on a long trip.
Petrol or diesel?
In the more populated regions of Southern and East of Africa petrol and diesel are widely available but, as you get farther off the beaten track, petrol is more difficult to find. Diesel seems to be cheaper than petrol in most countries.  Diesel vehicle should be more fuel efficient than the petrol ones.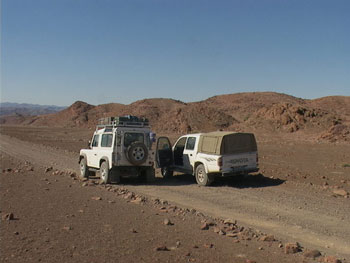 Spares and preparation
Taking spares on an over landing trip can be a very bulky and heavy collection.  When I travel, I make sure that my vehicle is in a good condition.  I do not take a v belt with me if the one on the vehicle does not look good; I change it before I go. The Toyota Fortuner that I use to travel has more than one belt and is almost impossible to change it on the road. My point is: I do not take any spares with me.  If your vehicle is not reliable, take spares.  To make a list of spares is impossible and could be very lengthy.